How do I change the wireless channel on my Belkin 54G Router
Wireless routers can broadcast on several different channels, similar to the way radio stations use different channels. At times, one wireless channel will be more clear than the others. There's no need to change your computer's configuration because it will automatically detect the router's new channel.
To change your router's channel :
First, it is advisable to connect your computer to your router with the supplied ethernet cable. It is possible for you to put the device into a state where you cannot access it via the wireless connection – if this happens you will be required to use the cable anyway. On most computers you can connect both wirelessly and wired at the same time, so you can test your settings each time you change them.
1.  Connect the computer to one of the four LAN ports on the router.

2.  Open a web browser, type "http://192.168.2.1" in the address bar and press Enter.

3.  Click Login in the top right corner.

4.  The router does not ship with a password, so just click Submit.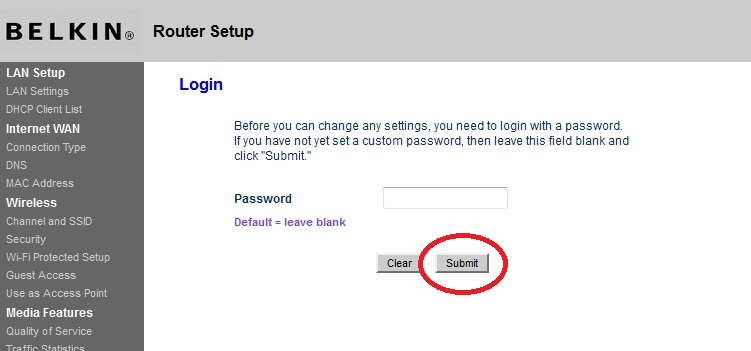 5.  Click Channel and SSID under Wireless.

6.  The router may be set to auto for the channel selection. As surrounding networks are added, the initial channel may become crowded. Use the drop-down list and select a new channel for your router.
Note: Channels 1, 6, or 11 are the best selections.

7.  Click Apply Changes.

This info has been sourced form belkin.com